Roll over image to zoom in
Description
Bunion Relief Toe Socks
These Pain Relieving Toe Socks treat bunions and also reduce pain from common foot conditions like plantar fasciitis, neuropathy, and more! Simply wear every night to bed, and wake up to pain-free feet! The toe separating technology retrains foot bones to align properly, resulting in less pain, and treating bunions! Both big toe bunions and 'tailor's bunions' heal within a few weeks of use! Comfortable and easy to put on, these socks come in one size but stretch considerably to match your foot shape. For both men and women!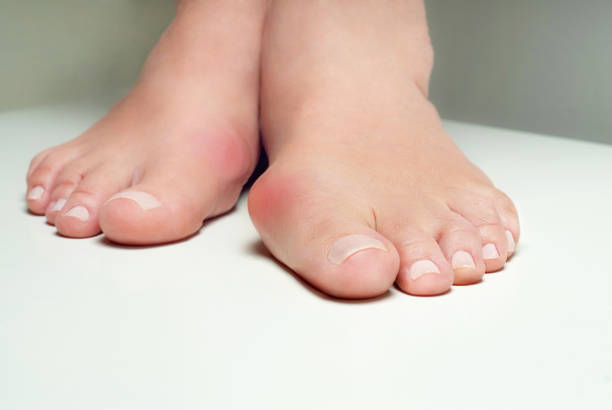 Anatomical left and the right design for the perfect fit
Seamless comfort and construction
Patent-pending "split-toe" design for separation
Extra padding for added protection
Padded heel for anatomical shape
360-degree blister protection
.
FAQS
Q: Does this treat bunions? 
A: Yes! With regular nightly wear, your bunions will reduce in size and eventually the bones will realign, resulting in normal functioning and pain-free feet. 
Q: How do I wear these?
A: Wear these every night when you go to sleep. You can also wear them during the day, but they will not fit comfortably in closed-toe shoes.
Q: Will these help my foot pain? I don't have bunions.
A: Yes! These are made to help other foot conditions, like plantar fasciitis, as they stretch the inflamed tendons and muscles, resulting in more blood flow to the area. 
Shipping Policy
Your order will be processed within 1-2 business days after you have completed your transaction. After your order is processed, you will receive an email with your tracking information right away.
We offer FREE US shipping, with our average delivery time ranging from 6-14 business days. For more information on our shipping, please click here. Please allow that it may take up to or over 2 weeks for your order to deliver due to high demand.
Our Guarantee
We offer free exchanges and returns here at Easeable!
Buying items online can be a daunting task, so we want to reassure you that there is no risk of buying from us and trying our products out. If you are unsure, you can
click here
to get an additional 1-year warranty.
Please note that if an item is on sale, we only offer an hour grace-period to make ANY changes to your order. Items on sale are on extremely high demand therefore we must send out invoices to our manufacturer every night.
How do I pay if I don't have a PayPal account?
1.
Select your cart and click "check out". Fill in your shipping information and click "complete order".
2.
In the pop-up window, click on the location on the image below to activate PayPal Guest Checkout.
3.
Choose your bank country.
4.
Now you can use your preferred credit card to pay.
5.
Final option:
Do you want to use this credit card to create a paypal account?
According to your needs, choose yes or no.

6.
Successful transaction and you will receive an email with your tracking number once your order has been fully processed.